We are back on in 16th-20th January 2023! So register now!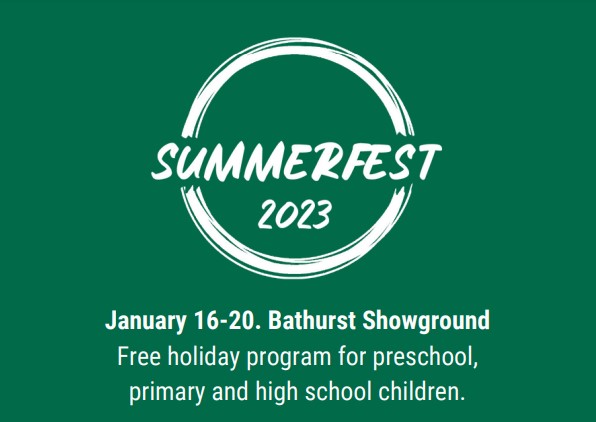 What is Bathurst Summerfest?
Bathurst Summerfest is an annual week of summer fun for the family! Summerfest has been running each January in Bathurst for over 20 years! Hundreds of children ranging from pre-school, primary and youth spend a week together learning from the Bible, making friends, singing songs, playing games and making craft. There's something for everyone and it is totally free!
What will it look like in 2023?
Summerfest is back on in person for a five day program during the school holidays from Monday 16th to Friday 20th January, 2023. This is an exciting opportunity to invite your friends (or children's friends) to join us in person again and learn about Jesus!
The main theme this year is "The Greatest Story" and we will be looking at who Jesus is through the book of Luke in the Bible.
What are the different programs?
There will be 3 main programs:
Creche (Toddlers and Preschool Age Children)
Teens (High Schoolers Year 7-12)
How can I get involved?
If you would like to join us please REGISTER and why not also invite your friends together.
Also, please follow us on Facebook and Instagram for the latest updates!
Who runs Bathurst Summerfest?
Bathurst Summerfest is a partnership between the Bathurst Presbyterian Church, Bathurst Evangelical Church, Bathurst Baptist Church and Bathurst Anglican Church and a team of people from Churches across NSW.
Why do we do it?
We love to give everyone in Bathurst (and beyond) an opportunity to hear the good news about Jesus! We believe that knowing God and the life He offers through Jesus is wonderful and life changing.
Summerfest Media
Follow us on Facebook and Instagram for the latest updates!
Here are a few articles from the Western Advocate on Summerfest from previous years:
Want to see more of the fun that goes on from previous years? Check out the gallery below!