Note: The Family Fund Day BBQ will still go ahead even in wet weather on Friday 17th January!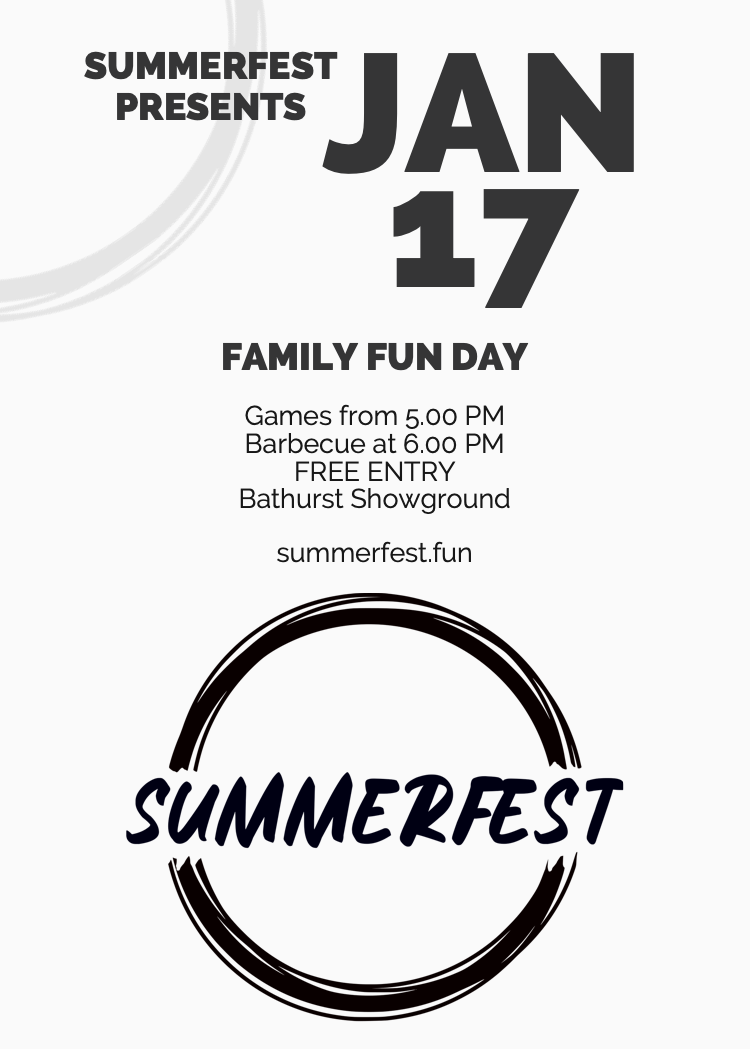 What is Bathurst Summerfest?
Bathurst Summerfest is an annual week of free fun and activities for the whole family! It consists of Rugrats for younger kids, Triple S (Super Summer Slam) for Primary School kids, and Switch for High School students. Bathurst Summerfest is held at the Bathurst Showground.
Who runs Bathurst Summerfest?
Bathurst Summerfest is run by Christians from Bathurst Presbyterian Church, Bathurst Evangelical Church, Bathurst Baptist Church, and a team of young people from Churches across NSW.
All the people working with children have completed the mandatory checks required by law.
Why do we do it?
We want to give everyone in Bathurst the opportunity to hear the GOOD NEWS ABOUT JESUS! We believe God wants everyone to know him and be friends with him. Knowing God can change your life and give you hope for the future.
Rugrats
Pre-school Age Children
Monday 13th – Friday 17th January
9am – 10:45am
Parents must remain on site.
Rug Rats will enjoy supervised play, craft, songs and stories from the Bible. Parents are able to join in or relax over morning tea and activities whilst their kids enjoy some new friendships.
Triple S
K-6 Primary School Age Children
Monday 13th – Friday 17th January
9am – 12 midday
Triple S kids enjoy games, drama, songs, craft, lessons, and making friends.
Switch
High School & Teenagers
Monday 13th – Friday 17th January
9am – 12 midday
Chill out, snacks, games, challenges, talks, discussions, surprises. Switch will include a special activity on Wednesday, details TBD.
Switch Friday Event
6pm – 8:30pm Friday 17th of January at Bathurst Showground.
Free BBQ, challenges, live music and talk.
Family Friday
Bathurst Summerfest wraps up with a Free Family BBQ & Concert!
Friday 17th January
Bathurst Showground
Games and activities from 5pm
Free BBQ from 6pm
Triple S Kids Concert to follow
If you would like to register your children for Bathurst Summerfest 2020, head to the Registration page now!
You can find out more about the program from the following articles:
Want to see more of the fun that goes on? Check out the gallery below!